Pandemic blues drive demand for mental health apps in Singapore
SINGAPORE: Offering guided meditations, wellness workshops and even training opportunities for staff to become certified care providers are some of the ways foodpanda is building up its mental health support for employees.
The food delivery platform said the initiatives have been well-received, and with mental health and well-being becoming a priority amid a prolonged COVID-19 pandemic, it is looking to do more.
Starting this month, foodpanda is providing its employees across 12 markets free access to a one-stop mental health support platform.
The platform – an app powered by Singapore-based mental health start-up Intellect – provides a range of self-guided tools, from five-minute long "rescue sessions" for stress to weeks-long self-care programmes. Users can also book one-on-one online consultations with licensed counsellors and behavioural coaches.
This follows a three-month trial in its Singapore office earlier in April, which yielded "overwhelmingly positive" results. Ninety-eight per cent of employees surveyed asked for the app to be included as part of the company's mental health benefits, the company said.
Since then, more than 250 employees based in Singapore have signed up for the app. It was extended to employees in other markets on Oct 1.
"With the Intellect app, we can provide personalised support for employees working in different countries, which is especially important when COVID-19 has prevented in-person meetings and travels," said foodpanda's head of people Ingo Laubender.
"The app can be a friend that employees lean on, especially when they need immediate mental health support. It also destigmatises the notion of speaking to a licensed professional."
Foodpanda is not the only company providing employees with mental health-related support.
Virtual platforms centred on mental health and wellness, such as Intellect, said they have seen a surge in demand for their services since the pandemic erupted and brought about new ways of life, such as remote working and physical distancing.
"The pandemic has blurred work-life balance and reduced social interactions, leaving employees feeling isolated and disengaged at work," said Intellect's co-founder and chief executive Theodoric Chew.
"However, we also see greater mental health awareness as companies are recognising that their employees' workplace satisfaction and productivity are directly linked to their mental well-being."
SURGE IN DEMAND
Intellect, which launched its services in April last year, told CNA that its enterprise platform now serves 20,000 employees from more than 20 multinational companies and start-ups.
Apart from corporate clients, the start-up also has a free consumer app offering self-guided digital therapy programmes for individuals. It said it now has more than 2.5 million users in total.
"For an app … to grow past a million or two in one year is something that we see (as) a very clear indicator that Asia or the world needs something like this, and we are in the right place to address this," said Mr Chew.
MindFi is another Singapore-based start-up that has seen a boom in demand, as COVID-19 drew greater attention to mental health issues and also spurred the digitisation of healthcare.
"The pandemic has really helped to drive this space forward and I could never have predicted that," founder Bjorn Lee said.
MindFi started out as a consumer app in 2017 but given the swell in corporate demand last year, it has since switched to focus on providing digital mental health and wellness solutions for businesses.
It now has over 30 enterprise clients across Asia, serving more than 100,000 employees.
"Before the pandemic, we had no corporate clients at all. In fact when we approached businesses in the past, (they) would go cold or ghost on us. But the reverse is now happening," said Mr Lee, adding that businesses are noticing heightened stress and anxiety levels among their workforce.
"And people are deciding to quit when they realise this doesn't align with their meaning and purpose in life. I think that's what alarms the C-suite … and has caused people to sit up and change things."
MindFi said its technology dishes out personalised recommendations based on a user's psychometric profile. It also provides guided self-care programmes and matches users with coaches and therapists.
Its most popular programmes include one-minute breathing exercises where users are guided to inhale and exhale according to the vibrations of their phones.
There is also a "focus mode" that allows one to set a time required to finish up a task. "During that time, you're not allowed to check your phone or navigate to other apps. And at the end of that timer, you are recommended a meditation track to help reset your mind before moving on to another task," Mr Lee said.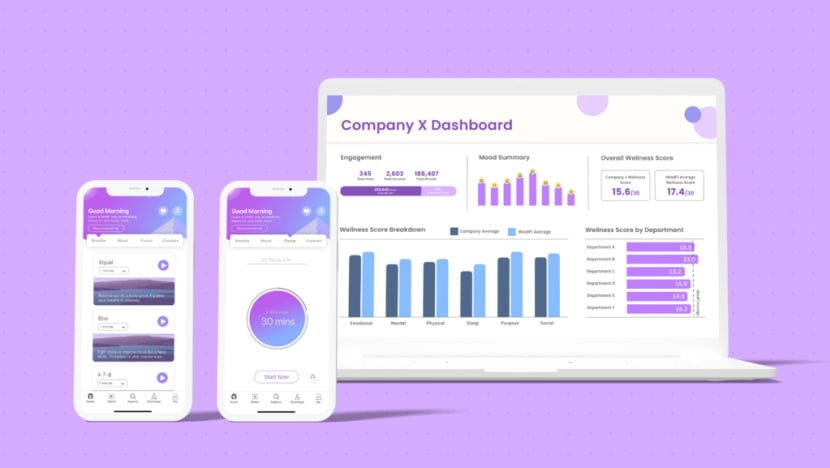 The start-up said its unique selling point is in offering "bite-sized" mental health support that is easy to integrate into daily routines.
"For example, the one-minute breathing exercise is usually done by users at the start of a meeting," added Mr Lee. "So our app is actually very effective in helping people to take breaks during the day."
Both start-ups said they rely on clinically validated measures for their products and have been investing in research and expertise to support their therapies. They also place strong emphasis on privacy. For instance, MindFi anonymises employee data and aggregates them to generate team-level analytics reports for companies.
CORPORATE INTEREST
The National University Health System (NUHS) has tapped on MindFi to help its healthcare workers build mindful practices both at work and at home.
Apart from free access to the MindFi platform, NUHS also partnered the start-up to launch a 100-day mental wellness awareness programme in October last year.
This was to help healthcare workers deal with the many new challenges in patient care amid the pandemic, said NUHS Mind Science Centre's director John Wong.
"Every effort was made to explore increasing the capacity of emotional support for frontline healthcare workers, as well as those working from home to ensure that the healthcare cluster continues to function optimally," he told CNA.
NUHS also had a year-long pilot partnership with mental health chatbot WYSA to provide staff with more digital self-care and monitoring tools. Other initiatives are on the way, said Associate Professor Wong.
"We are planning to introduce programmes such as mindline.sg. We will also be implementing the Emotional Literacy and First Aid e-training for employees at end of 2021 to help build mental health literacy."
This is on top of other company-wide initiatives like "Recharge Fridays" where employees get a day off.
"When COVID-19 hit, we responded quickly to the urgent need to support (our employees) and implemented a number of initiatives," said Zendesk's chief operating officer for Asia-Pacific Wendy Johnstone.
Through regular surveys, the company has garnered "overwhelming feedback" on the need for flexibility to balance life and work as the pandemic wears on.
"As such, we have introduced a series of well-being programmes that give our employees worldwide the flexibility to choose what works for them," said Ms Johnstone.
Online clothing retailer Zalora announced last month that it will be giving all full-time employees mental health benefits, such as free access to a meditation app and an online mental health platform for confidential counselling sessions with psychologists.
The company said it took "particular care" to review and compare multiple platforms to ensure that they met its requirements, such as privacy protections and the ability to offer customised solutions for its multicultural teams in various markets from Hong Kong to Indonesia. 
Explaining the company's decision, general counsel and chief people officer Louise Pender said the shift to a hybrid work model has seen employees juggling work with responsibilities at home, while the rise of video conferencing apps like Zoom has resulted in "screen fatigue".
"Importantly, these initiatives are aimed at safeguarding our employees' mental health and enhancing their personal well-being, not only during the extended and ever-evolving pandemic situation, but also moving into the future," she said.
FUTURE PLANS
Such demand has thus far spurred a surge in venture funding into mental health start-ups, not just in Singapore but across the world.
Funding in this nascent space globally reached a record US$852 million in the first quarter of this year, nearly twice the amount raised during the same period in 2020, according to research firm CB Insights.
Both Intellect and MindFi closed out funding rounds in August. The former secured US$2.2 million in pre-series A funding, while the latter raised US$750,000 in pre-seed funding.
The start-ups said these funds will come in handy in enabling them to expand into new markets and ramp up product offerings, as demand for virtual mental health solutions will be here to stay beyond the pandemic.
"There are many great United States and Europe-based players but they are more focused on self-care and mindfulness. What we are building is a full mental health system," said Intellect's Mr Chew.
"We are also localised to our markets, from languages to the professionals we work with … which is important because there are nuances in each market," he added. 
Mr Chew acknowledged that digital platforms may fall short for those who prefer face-to-face support, but technology has its benefits such as being able to expand the reach and accessibility of much-needed mental health support in conservative societies.
His start-up also hopes to "shift the narrative from something more clinically perceived to something more proactive and part of daily life".
"What we are trying to do is create access and make (seeking of mental health support) less stigmatised," said the young start-up founder.
Intellect said ongoing clinical studies done with local and overseas universities and institutions are showing that the use of its programmes over four weeks can help reduce anxiety and stress levels by 20 and 10 per cent, respectively.
Over at MindFi, Mr Lee said its app is due to unveil a major update that will make it "a lot more relevant to the current work-from-home lifestyles".
Describing it as "a smart assistant", the app will suggest customised recommendations based on user habits and time of the day.
"The pandora's box, in terms of the importance of mental health, has been opened. Companies are increasingly looking at this; governments are also putting out advisories and the media is talking about it, which is great," said Mr Lee, citing a recent article by CNA Insider which shed light on the danger of work burn-out among teachers in Singapore
"As the pandemic evolves and becomes endemic and so on, people are going to expect a different kind of health package from their companies and also from their insurers. This is unlikely to go back into the box now that we have kicked the door down."
Kit, T. S. (2021, October 7). Pandemic blues drive demand for mental health apps in Singapore. CNA. https://www.channelnewsasia.com/singapore/covid-19-mental-health-startups-singapore-mindfi-intellect-2203336